Sure, basketball is a team game... but individual performances can still spell the difference between playoff success and failure. In this feature, we take a look at the players who made the biggest impact, good or bad, on the day's results. Which player made the most efficient use of his offensive touches to help his team win the game? Which player's misses cost his team a shot at victory?

Here's what we've got...

Let us know how we did. Did we choose the right guys? Who would you add or subtract?
---
HOT SHOTS - Carlos Delfino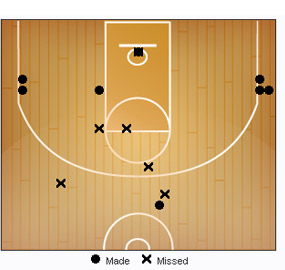 22 PointsField Goal Selection
Layups: 0-1
Jumpers: 7-12
Dunks: 1-1
Scoring Breakdown
FGs: 8-14
3FG: 6-8
FT: 0-0
HOT SHOTS - Rashard Lewis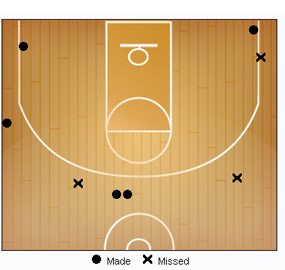 17 Points
Field Goal Selection
Layups: 0-0
Jumpers: 5-8
Dunks: 0-0
Scoring Breakdown
FGs: 5-8
3FG: 4-7
FT: 3-4
---
COLD SHOT - Stephen Jackson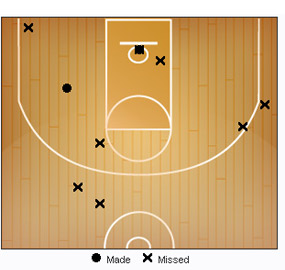 8 Points

Field Goal Selection
Layups: 1-2
Jumpers: 1-8
Dunks: 0-0

Scoring Breakdown
FGs: 2-11
3FG: 0-3
FT: 4-5