Preview Links: Eastern Breakdown | West Breakdown | Bracket & Schedule Video Previews: East | West
With only one day left until the start of the playoffs, we've rounded up our best NBA minds to give their predictions for the postseason. For a little added flavor, we're also going to find out if any of the men on this elite squad can rise up and defeat "The Machine"... a playoff simulation by NBA2K10.
As in years past, we'll be keeping track of each expert's success or failure, and we'll crown a champion at the end of the postseason. Experts will receive two points for picking the correct team, and one additional point if they pick the right number of games.
In 2009, Ken Berger and Nunzio Ingrassia
tied for the title
.
Think you can beat our experts? Post your picks below!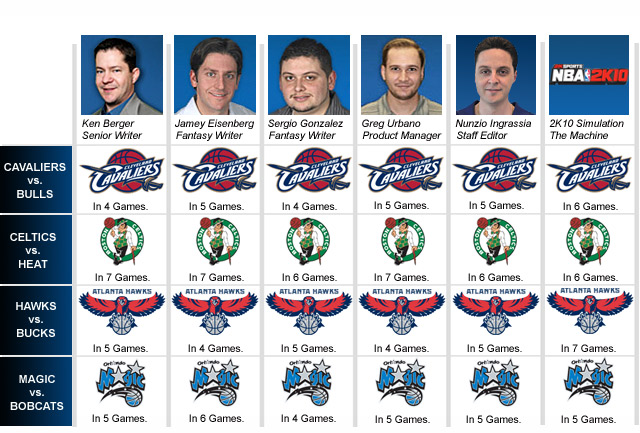 Expert Scores
Expert
Right
Wrong
Bonus
Total
Ken Berger
-
-
-
--
Jamie Eisenberg
-
-
-
--
Sergio Gonzalez
-
-
-
--
Gerg Urbano
-
-
-
--
Nunzio Ingrassia
-
-
-
--
NBA2K10
-
-
-
--
Right = correct pick (2pts) - Wrong = wrong pick (0pts) - Bonus = correct number of games (1pt)